Level Up 2.0: Autoplay Annoyance, Splash Page, No RSS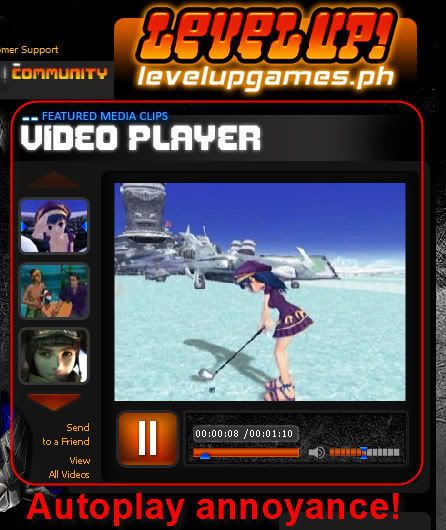 Oh my God, do my eyes and ears deceive me? Is that an autoplaying video on Level Up's new homepage?
I've said it before, and I'll say it again: homepage autoplay is annoying! At least FHM learned their lesson.
I'll give Level Up credit for finally making their site navigable — useless Flash doodads used to cover up half their menus — but autoplay annoyance on the homepage of the Philippines' biggest online gaming publisher is just unacceptable! Viral video, people, viral video! YouTube is huge in the Philippines! Get a Director account like these Filipinos! Your business is not to create a destination video portal; it's to market your games across multiple channels!
2007 will be the year of the widget, yet I see no embed code for your videos. You're supposed to smoothen the spread of your promo videos, not force people to watch them whenever they go to your homepage!
And what's with that splash page with the gibberish title "splash_LUv2_launch"? What are you, some twelve-year-old with a GeoCities page in the '90's? "Level Up 2.0"? This is from Web 1.0!
I won't even get started on the lack of RSS feeds. You know what Scoble says about people who make marketing sites without RSS feeds.
Flawed executions often come from flawed paradigms, and Level Up's site redesign is no different. They have a New Media Group. They're an online game publisher, yet they form a separate group that treats online media as something new. That explains a lot.
(Via Joey Alarilla.)