Media
---
The big media companies shouldn't worry that people will post their copyrighted material on YouTube. They should worry that people will post their own stuff on YouTube, and audiences will watch that instead.
— Paul Graham.
Ailing Philippine TV network ABS-CBN aggravates its problems by having clips from their show Pinoy Dream Academy pulled off YouTube. This paranoia reflects an ignorant fear of social media from an offline media outlet that can't diversify. It's a spectacularly dumb move for four glaringly obvious reasons.
First, they're being completely indiscriminate. They're having clips pulled off just because they contain the words Pinoy Dream Academy in the title, even if they don't contain a shred of material from the show. Way to kill off your completely non-infringing free viral marketing, guys. Some intern probably just conducted a search and sent out a form letter without watching the videos. For that alone, somebody needs to get fired — but oh, there's more. Click here to continue reading "ABS-CBN Pulls Pinoy Dream Academy Clips Off YouTube"…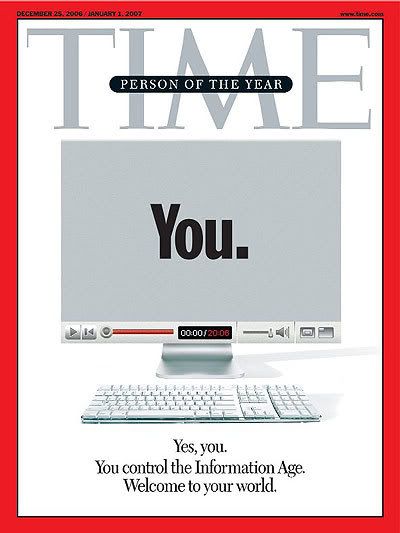 You know niche media has gone mainstream when Time Magazine makes you Person of the Year. Yes, you, you, and you — including you in the middle passing notes, and especially you in front nodding (maybe not so much you in the back throwing spitballs). Yes, even you in the doorway lookin' pretty. If the '80's was the "Me" decade of status seekers kissing up through channels, the '00's is the "You" decade of content creators making their own channels.
…look at 2006 through a different lens and you'll see another story, one that isn't about conflict or great men. It's a story about community and collaboration on a scale never seen before. It's about the cosmic compendium of knowledge Wikipedia and the million-channel people's network YouTube and the online metropolis MySpace. It's about the many wresting power from the few and helping one another for nothing and how that will not only change the world, but also change the way the world changes.
Click here to continue reading "Time's Person of the Year: You"…