Gaming
---
Filipino businessman Chester Chi led a Japanese trade delegation to Manila this week. I met up with them at the Philamlife Tower Club yesterday afternoon, where Chester introduced his guests to Filipino IT luminaries. Read on for a peek into an international business meeting involving moe, cosplayers, and TCG booster packs. Click here to continue reading "Japanese Execs Meet Filipino IT Luminaries"…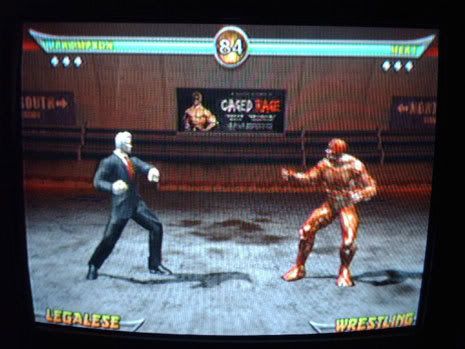 Someone who can't take the heat is now barking up the wrong tree with his foot in his mouth.
Some guys used Mortal Kombat: Armageddon's Kreate a Fighter feature to put antigaming nut Jack Thompson in the game. Jack apparently hasn't heard of user-created content, believing himself instead to be a secret character.
It has today come to my attention that the newly recently (sic) Mortal Kombat: Armageddon contains an unauthorized commercial exploitation of my name, photograph, image, and likeness within the game. You are commanded to cease and desist immediately from the distribution of this game because of this unauthorized, illegal content.
Nevermind that satire is protected by law; the character is user-created content. And to think this guy's supposed to be a lawyer! This clueless nut has way too high an opinion of his fighting prowess.
(Via GameAxis.com.)