Filipina
---
Popular Filipina gamer-blogger-cosplayer sisters Ashley and Alodia Gosiengfiao perform a dance from Sega's dress-up-and-dance arcade game Love and Berry at H3 2006.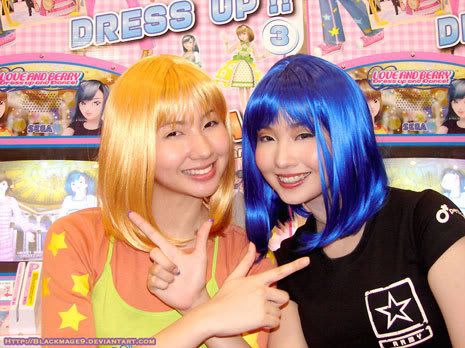 See, this is the potential of gamer babes realized. If it had been anyone other than the Gosiengfiao sisters doing this silly dance, a red-blooded gamer guy like me would never mention such a girly game on his blog.
Only one girl is going to the World Cyber Games finals this year. And she's a Filipina: Mitzie Valerie Eusebio.
This is the potential of gamer girls. She and fellow Filipino cyberathlete Alex Villafania would have a lot to talk about.
I'm surprised Philippine game publishers aren't tapping our best gamers as credible endorsers, especially with the rise of pretty GBCs. Influential gamers would listen to them over traditional models. Just look at Fatal1ty.