The Original Cuppycake Video
You're My Honeybunch (The Cuppycake Song) has been floating around the Internet for ten years now, garnering about 46,400 mentions across the Web. Now, thanks to YouTube, we find out the original artist was not some voice actress sounding cutesy for some record label, but a three-year-old girl in her parents' home studio.
No lip-syncing here folks, This is the REAL DEAL!: The original 1994 video of "The Cuppycake Song" being recorded by the original artist (our daughter, Amy at age 3) in our home studio. Although there were many takes of the song during the session, this was the one that made it onto our BALLOONS children's CD and the one which has generated so much interest on the internet. Since uploading "The Cuppycake Song" to the web in 1996, it has truly taken on a life of it's own. On You Tube alone, there are currently at least 268 videos using this song! In the last ten years we have received thousands of unsolicited comments from people of all ages across the US and many countries around the world who have been touched by this simple song and the tiny voice that sings it. Now at last, you can see the face that goes with the voice. This should finally put to rest the false rumor that the song was sung by Strawberry Shortcake.
Young Amy Castle even adds to the cuteness of the proceedings with her closing line: Now I'm done! Don't you just love it when the origin of a meme expands the meme itself, even a decade later?
By the way, here's what that talented little girl looks like today.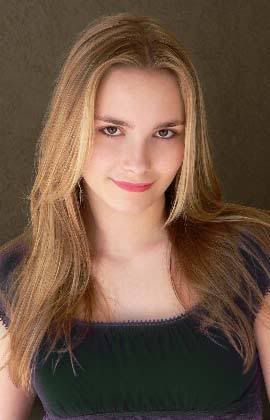 Since recording her version of "You're My Honeybunch" (The Cuppycake Song) for the BALLOONS album in February of 1994, Amy began studying dancing and acting at age 4. She got her first acting job in November of 1998 – on only her fifth audition – when she landed the role of young Ally on the hit tv series Ally McBeal. During the show's second and third seasons she appeared in eight episodes: They were, in order,

1. Making Spirits Bright
2. Love's Illusions
3. Troubled Waters
4. Saving Santa
5. Over The Rainbow
6. Turning Thirty
7. Boy Next Door
8. Ally McBeal, The Musical – Almost.

She also appeared on The Norm Show as an orphan in the Christmas episode entitled "Artie Comes To Town", and as a girl suffering with asthma on Providence in an episode entitled "Exposure".

Amy guest starred as Andie Robinson on the hit Disney Channel show Lizzie McGuire in an episode entitled "Just Like Lizzie" for which she won a 2002 Young Artist Award for Best Performance In A Comedy Series – Guest Starring Young Actress.

In 2004, Amy guest starred in an episode of "Malcolm In The Middle" in which she danced and acted.

Most recently, she did an episode of the popular WB show "Summerland".
What we have here is an organic meme growing from its roots. Let's see if Amy can parlay that memetic growth into career growth.
Bonus: Check out Amy's Cuppycake blooper reel.
Amy, do you want to be a professional or a do you want to be a screw-up? Amy: A screw-up! The girl is a prodigy.