A Tale of Two Filipina Gamer-Blogger-Cosplayer Babes
While Level Up is irritating one gamer-blogger-cosplayer babe, ABS-CBN Interactive is pleasing another.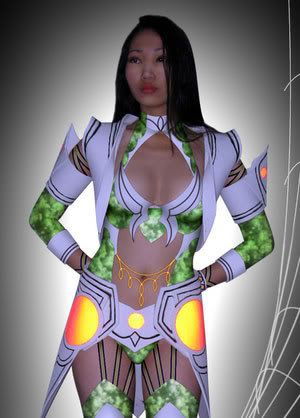 Jac Ting Lim, who's cosplaying a character from Level Up's RF Online at AME Matsuri today, can't even get online in RF Online.
WTF?? Now I'm getting this message: "Not a subscribing user. would you like to subsribe?"

Whaddayamean I'm not a subscribing user?? I just bought PhP20 credits and topped up!

Gahd, and I needed so much to play right now to research for my cosplay tomorrow T_T
I honestly want to play this game and seriously level up and all, but all these fuck-ups are just not worth it. I won't even start with how I never get problems like these when I was playing Guild Wars! I'm very frustrated.
I'm surprised she's even cosplaying an RF Online character today, especially since Jac plays much better games like Guild Wars. Cosplay is content customer evangelism, and Jac's clearly not a happy customer today.
Alodia Gosiengfiao, on the other hand, is playing ABS-CBN Interactive's Tantra Online, loving it, and blogging it.
Woopee! I'm currently playing Tantra Online and it's really fun! The 10x Exp Rate and free gameplay is a big help! I got my new character to level 49 in one day(addict mode)..XD

I play at Manas Server and I have 2 characters:

Wizards : AlodiaAlmira and AlodiaKawaii(new character)
I wasn't able to get the name "Alodia" because it was already taken by someone else, huhuhu!

*continues playing and makes the most out of the long weekend*
Her legions of rabid fanboys aside, Alodia has a lot of credibility as a gamer. Heck, now even a picky gamer like me might drop by Tantra just to see what's going on there.
If you want market influencers to internalize and evangelize your services, make sure they can thoroughly enjoy your services.