Pacquiao Beats Morales
Dammit, Pretty Boy Morales, haven't you heard of the phrase "Go the distance"?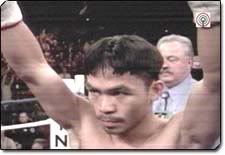 Filipino boxing champ Manny "Pacman" Pacquiao beats Mexican boxing legend Erik "El Terrible" Morales after only three rounds!
More proof Philippine TV is as whipped as Morales: while nearly twenty million online Filipinos from the SMS capital of the world give Inq7.net and MannyPacquiao.ph a brutal traffic beating, local TV is still showing Sarah Geronimo singing the national anthem.