Japanese Execs Meet Filipino IT Luminaries
Filipino businessman Chester Chi led a Japanese trade delegation to Manila this week. I met up with them at the Philamlife Tower Club yesterday afternoon, where Chester introduced his guests to Filipino IT luminaries. Read on for a peek into an international business meeting involving moe, cosplayers, and TCG booster packs.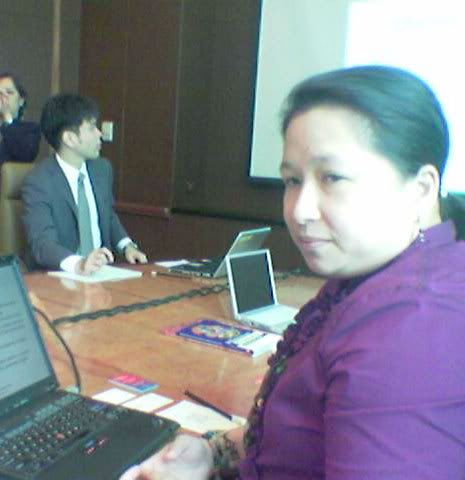 The Digital Filipino author Janette Toral presents the state of Philippine e-commerce. TransCosmos' Kenji Sato checks out the numbers on screen.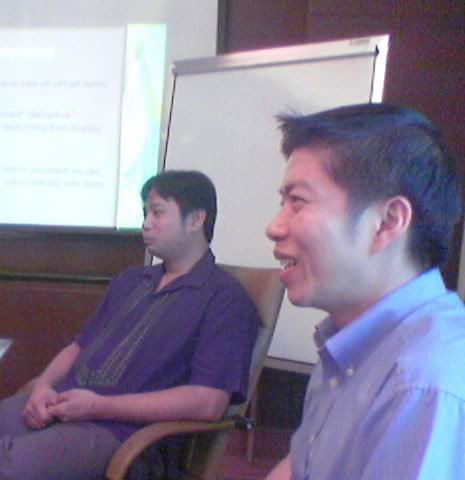 Asian Gaming Journalists Association founder Joey Alarilla (left) discusses the Philippine gaming and otaku boom. Chester approves.
In the foreground are, from left to right, Broccoli's Takayuki Shimoyama, WebMoney's Masaru Onogi, and GCrest's Kiyoshi Nagasawa. That's Filipina cosplay idol Jerry Polence sitting in the back with a bunch of C-level Philippine gaming execs.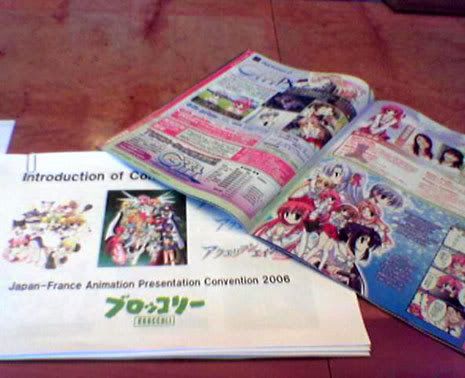 These are the important matters on the table before me. Looking at cute anime girls all afternoon is a tough job, but somebody's gotta do it.
Level Up's Jake San Diego hopes to release Freestyle Full Press within the month, Ragnarok Online 2 by next year, and Gunz probably never. e-Games' Steve Tsao will be at the H3 2006 anime convention, with his company filling more floor space than the organizers themselves. ABS-CBN's Caloy Alejandro should fix the RSS over at the Tantra blog; the guy's just been busy.
Next page: swag!
Pages | 1 | 2